Public Art and Self-Organisation
Wednesday 22nd August 2012
9.30am to 4.30pm
Self-organised public art practice has always offered a means of challenging the dominant order and continually finds new ways of doing things without the overarching support of an institution, public funding body or private patron.
This event explored different models of self-organisation within contemporary public art practice. It examined: rationales and tactics for getting started; social, economic and organisational structures; and strategies for survival and sustaining activities.
The event was for artists, curators and representatives from arts organisations.
The event was recorded for use on ixia's websites. You can listen to the You can listen to the audio files here.
Speakers' Biographies
Anthony Gross is a Digital Artist and Filmmaker with a background in architecture. He co-founded temporarycontemporary which yielded the Event Horizon Social Club, an experimental cafe-bar performance programme. This led him to create The Old Police Station, an occupational infrastructure of studios, project spaces, a radio station and a bar in Deptford in London and including Cartel, an invitational curatorial consortium housed in a modular container.
Anthony has recently overseen the opening of Enclave in Deptford. Enclave is a new-build, artist-run and self-sustaining infrastructure that takes these ideas to an ambitious new level as an artist urban action. It houses a gallery, project space, art offices, artist residency and eight independent project spaces with a communal support organisation.
www.theoldpolicestation.org   www.enclaveprojects.com   www.mrgross.com
Jeanne van Heeswijk is an Artist based in Rotterdam, the Netherlands. Jeanne works with public spaces on socially committed art projects, where she sees herself as a mediator and communicator. She stimulates and develops cultural collaboration and production and creates new public spaces and meeting zones as well as remodelling existing ones. To achieve this, Jeanne works closely with artists, designers, architects, software developers, governments and, most importantly, citizens.
In 2004, Jeanne negotiated the use of a large new villa in a newly created district called IJburg, in Amsterdam. She invited artists, urbanists, architects, writers, scholars, scientists, politicians, sociologists and other thinkers to become members of The Blue House Housing Association of the Mind for the duration of the four-year project. Members lived in, worked in and engaged with The Blue House and were encouraged to collaborate with one another and with IJburg residents to develop projects. These began to establish the cultural identity of the neighbourhood at the same time as cultivating social enterprise, and included re-purposing a construction site as a temporary 'pop-up' hotel and conference centre during the summer of 2009.
Jeanne's work has been widely exhibited, including at the PS1 Center for Contemporary Art in New York, the Tokyo City Opera Art Gallery, the Taipei Biennial in Taiwan, the Busan Biennale in Korea and the Venice Biennale. She has been awarded the Europrix, Chabot and Mama Cash prizes for her work and was the 2011 winner of the Leonore Annenberg Prize for Art and Social Change. Jeanne is currently working with Liverpool Biennial and a group of young people to design and build a small housing unit for two to four households. The project takes its name, 2Up 2Down, from the vernacular description of the small terraced house that characterises the North of England. The project offers an imaginative and experimental approach to dealing with empty properties and spaces in Liverpool and beyond.
www.jeanneworks.net
Vaari Claffey is an independent Curator based in Dublin, Ireland. Vaari is the founding Director and Curator of Gracelands. This project is a series of live outdoor visual arts events which take place over the course of one day and night
and encompasses commissioned sculpture, performance and film. Gracelands has run annually in Dromahair, Leitrim since 2008. In 2012, Gracelands will take place at the Milk Market, Limerick as part of 'eva International'.
Vaari's curatorial project, A MacGuffin and Some Other Things, has recently been exhibited at Project Arts Centre, Dublin. In 2010 she curated Temporarily Shelved with Rana Ozturk under the aegis of Sinopale, the International Sinop Beinnale.
Vaari is currently developing the film project, Some Structures, with the Architects Dominic Stevens and Tom de Paor, and the Artist Ronan McCrea. This latest work, funded by an Arts Council of Ireland's Touring Award, will tour throughout Ireland and internationally in 2011/12.
www.gracelands.eu
Sophie Hope co-founded the curatorial partnership B+B in 2000. Since then, she has pursued her independent practice, with projects such as Critical Friends (from 2008 and ongoing), a participant-led investigation into socially engaged art; The Wild Spirits of Efford (2010), her first radio play; and Het Reservaat (2007) a large-scale community performance in Leidsche Rijn, the Netherlands. Sophie writes and facilitates workshops, and has recently completed her PhD at Birkbeck College, University of London, where she is a Lecturer in Arts Policy and Management.
www.sophiehope.org.uk

Paul O'Neill is a Curator, Artist and Writer based in Bristol. Paul has curated or co- curated more than fifty exhibition projects including: Our Day Will Come: A free- school art project, Hobart, Tasmania; We are Grammar, Pratt Institute Manhattan Gallery, New York; and Coalesce: happenstance, SMART, Amsterdam. His extensive writings on the development of contemporary curatorial discourse
have been published in many books, catalogues, journals and magazines. He is Editor of the curatorial anthology, Curating Subjects, and is Co-editor with Mick Wilson of Curating and the Educational Turn and Locating the Producers: Durational Approaches to Public Art with Claire Doherty. His new book, The Culture of Curating, The Curating of Culture(s), will be published during August, 2012.
www.curatingdegreezero.org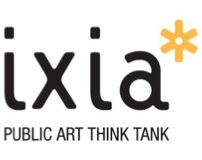 About ixia
ixia is a public art think tank. It promotes and influences the development and implementation of public art policies, strategies and projects by creating and distributing knowledge to arts and non-arts policy makers and delivery organisations within the public and private sectors, curators, artists and the public. ixia is a charity and is funded by Arts Council England as a National Portfolio Organisation (NPO).
For further information about ixia go to www.ixia-info.com and www.publicartonline.org.uk